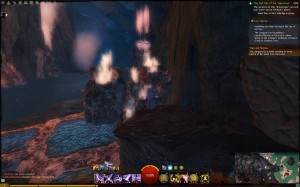 Key Facts:
Name: Skipping Stones
Location: North part of Southsun Cove, Bakestone Cavern
Location map: Southsun Cove
Recommended level : 80+
Achievement type: Jumping Puzzles
Puzzle Type: Jumping
Duration: 20+ minutes
Difficulty (Solo): Hard
Prize: Achievement / Grand Chest
General Information
This jumping puzzle is pretty hard if you are not careful. Once you fall down you have to do all over again.
Entrance
Guide through the puzzle
You have to make your jumps very fast since the floating geyser stones disappear after a few seconds.

There's more after you finish! If you continue into the shipwreck and go out a side door, you can see a plank that will allow you to continue over the small island west/n.west of the chest. At the highest altitude of the island there is a champion guarding another chest! (thanks Mog)