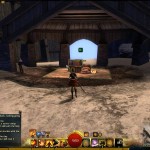 There are two types of Siege weapons: Offensive and Defensive Weapons. Siege weapons can only be used by the team that created them. When you equip it, it will change the first five skills on your skill bar. The opponents can attack, damage / destroy the structures. If the weapon is destroyed you can rebuild it.
Offensive siege weapons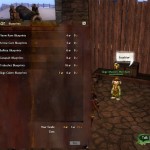 To build an Offensive siege weapon you need a blueprint and some supply. You can buy blueprints from a Siegemaster NPC who is located within your "home base" area on each map . Blueprints are also available as drops from guards and dolyaks. Currently, blueprints cost between 4 silver and 1 gold depending on the type (info from BW2).
When you double-click the blueprint, your skill bar will change to a ground-targeted skill so you can select where you'd like to place the build site for your weapon. The construction site will appear wherever you click. Anyone in your team can help with the construction by adding their supply to the site. Each player can carry up to 10 supplies at a time. With the exception of the siege golem, all siege weapons are stationary and cannot be moved.

Offensive siege weapons:
Defensive siege weapons: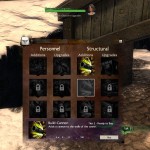 To build an Defensive siege weapon you need a Structural additions and some supply. There are two kinds of Structural upgrades: those that improve the keep walls (Structural upgrades) and those that add additional structures (Structural additions). You can buy Structural additions from a Quartermaster [Upgrades] NPC who is located near the supply depot. Structural additions consume supply as the structures are built by workers.
Each objective has its own supply depot that sends a dolyak caravan out to deliver supplies to surrounding towers and keeps. If you use up all supply in the depot, you'll need to escort adolyak caravan so it can deliver more supply to the depot.

The list of Structural Additions:
Build Pot of Oil — Adds a pot of boiling oil over the door.
Build Cannons — Adds a cannon to the walls of the tower.
Build Mortars — Build a mortar on the walls.
Defensive Siege Weapons:
BOILING POTS OF OIL
Boiling Pots of Oil are placed above gates and walls. As we stated previously, these weapons are effective against Flame Rams. There are two attacking skills: an oil skill that drops burning boiling oil which causes significant damage and a tar skill that decreases player's movement speed.







| Skill | Description | Range | Cooldown |
| --- | --- | --- | --- |
| Pour Oil | Pour boiling oil to damage foes | 600 | 3s |
| Pour Tar | Pour tar to cripple enemies | 600 | 10s |

CANNON
Cannon is a defensive weapon with a pretty good range. It rotates where you place a skill's target. This weapon can be used against a group of enemies, and as a additional ability you can freeze the enemies or cause the opponent to bleed.

| Skill | Description | Range | Cooldown |
| --- | --- | --- | --- |
| Fire | Fire an exploding cannon ball at the target location | 3,750 | 3s |
| Fire Grapeshot | Fire grapeshot to Bleed enemies | 3,750 | 10s |
| Fire Iceshot | Fire an ice grenade to freeze enemies at the target point | 3,750 | 20s |

MORTAR
Mortar is a defensive long range weapon. You can load two types of ammunition: Exploding Shells and Incendiary shells. By default it fires Exploding Shells and if you want to switch to Incendiary shells just use the fourth skill on your skill bar.
The Exploding Shells will make a huge fire cloud but it will promptly disappear, while the Incendiary shells will make a small fire explosion but it will last a few seconds.

Skill
Description
Range
Cooldown
Turn Left
Press and hold to turn your Mortar to the left.
Fire Exploding Shells
Fire Incendiary Shells
Fire
5s
Turn Right
Press and hold to turn your Mortar to the left.
Load Incendiary Shells
Load Exploding Shells
Load Incendiary Shells
Load Mortar Shells
10s