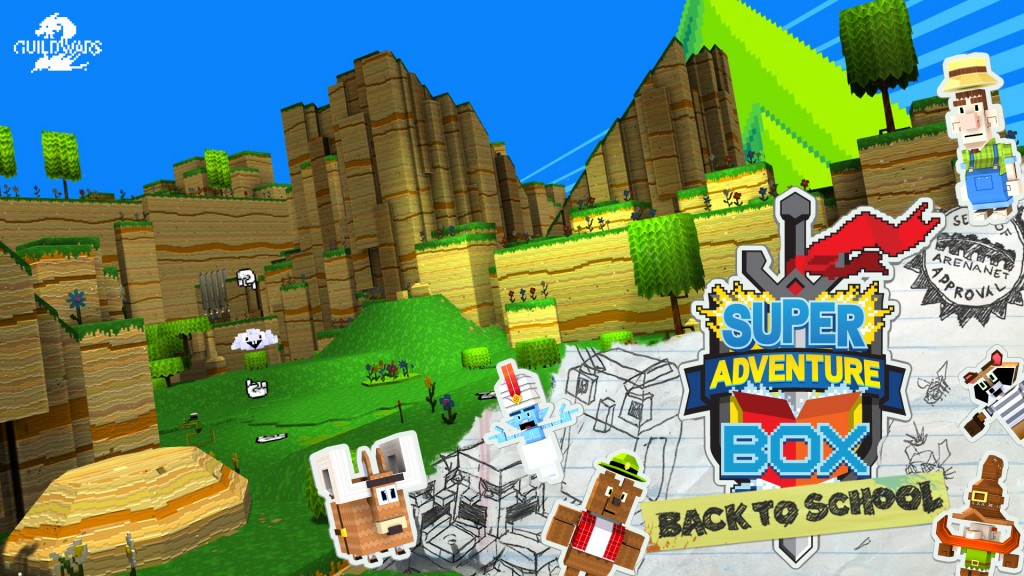 READ OUR GW2 Super Adventure Box Back to School Guides and find out about new Super skins, mini pets, patch notes, hidden rooms and baubles.

ArenaNet just announced that the Super Adventure Box will return to Tyria next week, on September 3rd, with new patch Back to School.

Super Adventure Box originated as an April Fools' Day joke earlier this year, but quickly became a fan favorite with its pixelated 3D graphics, retro music and nostalgic gameplay that stirred memories of video games from yesteryear. Designed in-game by Moto, a crafty asura, to be a virtual reality simulator to educate the younger generation, Super Adventure Box will take players back to school with new and more difficult challenges.

Players can get an early look at the update by joining a livestream with ArenaNet developers on Tuesday, Sept. 3, at noon (PDT) on the Guild Wars 2 Twitch channel.


New Events
Continued Education: Players can continue their studies by going deeper into World 2, traveling through the Rapids, Pain Cliffs and Storm Top, where they'll meet their lethal final exam in the form of the Storm Wizard. Unlocking new items and upgrades along the way will be the key to getting ahead.
Tribulation Mode: Moto's newest challenge teaches resilience and non-linear thinking. Players will learn that life isn't easy in this new, ridiculously difficult mode for all zones in Worlds 1 and 2.
New Rewards
Super Weapon Set: Players can acquire a stylish new look for their weapons by trading in Bauble Bubbles to earn the rest of the Super Weapon Skins.
King Toad and Storm Wizard Weapons: Showing their prowess in Super Adventure Box, players will earn the materials necessary for King Toad and Storm Wizard weapons.
Mini Princess Miya: Players can create their own mini Princess Miya by combining in the forge a mini Moto and elements of Princess Miya's outfit. 

New Features
Craft Ascended Weapons: New recipes and materials will be hidden around the world, and a new skill cap of 500 will be introduced for the Weaponsmith, Artificer and Huntsman crafting disciplines. Players crafting their way to 500 will become Grandmaster Crafters and can learn the secrets of crafting Ascended weapons.
Legendary Weapon Updates: Legendary weapons will receive a stat boost, an Offensive Infusion slot to align with new Ascended weapons and additional functionality, among other things.
Account-Wide Magic Find: Magic Find will be removed as an equipment stat and implemented as an account-wide bonus applied to all of a player's characters.