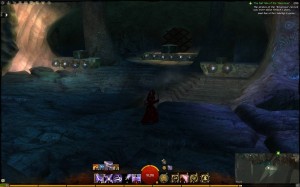 Key Facts:
Name: Scavenger's Chasm
Location: South East part of Malchor's Leap, South East of Theater of Delight
Location map: Malchor's Leap
Recommended level : 73+
Achievement type: Jumping Puzzles
Puzzle Type: Jumping (lots of jumping)
Duration: 30+ minutes
Difficulty (Solo): Medium
Prize: Achievement / Three Orrian Splendid Chests
General Information about Scavenger's Chasm Jumping Puzzle
This is probably the longest jumping puzzle, that requires gathering 12 Orrian Enegry Source globes scattered inside the cave. With Orrian Enegry Source globes you'll be able to open three Orrian Splendid Chests. Most of the jumps are short but they require lots of precision and patience.
Entrance
1st Orrian Energy Source
2nd Orrian Energy Source
3rd Orrian Energy Source
4th Orrian Energy Source
5th Orrian Energy Source
6th Orrian Energy Source
7th Orrian Energy Source
8th Orrian Energy Source
9th Orrian Energy Source
10th Orrian Energy Source
11th Orrian Energy Source
12th Orrian Energy Source
Orrian Splendid Chest