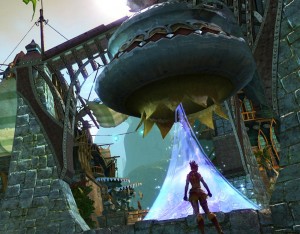 During the second Guild Wars 2 Beta Weekend I came across a special place – Mystic Forge. It's located in the Lion's Arch – Mystic Plaza.

Guild Wars 2 Developers described it as a strange forge that actually holds the imprisoned djinn Zommoros, who hails from distant Elona. If you offer the Mystic Forge gifts (like unneeded items and weapons), you will receive a gift in return. Got a pair of pistols that you don't need? Drop them in the Mystic Forge and see what Zommoros gives you in exchange!


You can combine four different type of armors (chest with legs, light armor with medium or heavy), different type of weapons, weapons and armors, Mini-pets or dyes. Unfortunately, you cannot predict the result. The Mystic Forge uses a combination of random and non-random recipes. For example, throw four rare swords into the forge, it will return a random sword with a chance for that sword to be substantially better. But, you can also get an item that you cannot use.


Using the Mystic Forge for weapons and armor it's a gamble, but if you have 4 duplicated pets, or dyes (which are not trade-able) it's better to forge them than to occupy your inventory space.
You can combine only the pets of the same Rarity and you can ended up with a pet in the same or the Rarity above the ones you put in.

Think of it almost like a bonus crafting profession of awesome, that everyone gets and can use in Lion's Arch.

Colin Johanson
And, all of that aside, next to the Mystic Forge is Zommoros' companion Miyami, the Mystic Forge vendor. If you take a look at her store panel you will find out that you can buy some special recipes for 10 golds and Mystic Items that can be bought for Skill Points.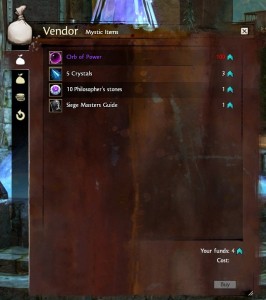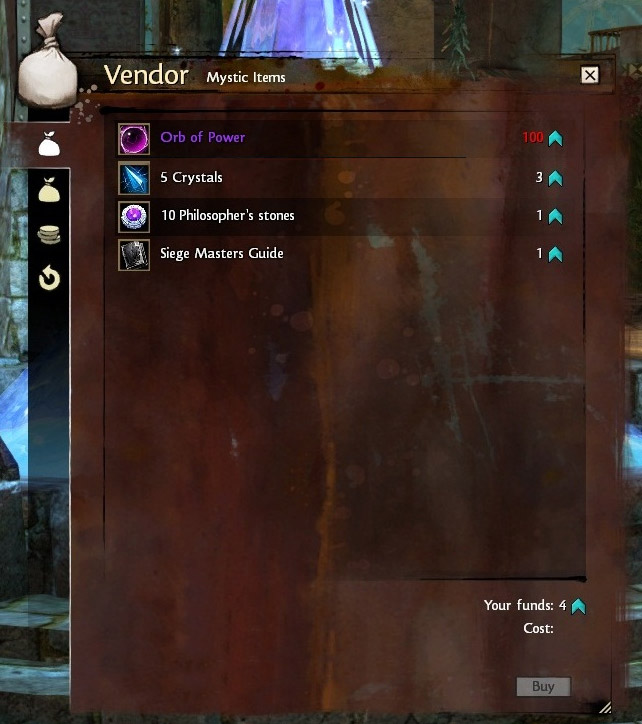 Orb of Power [100 skill points]
A orb of pure power used to create legendary weapons.
5 Crystals [3 skill points]
Used by the Mystic Forge.
"Zommoros loves crystals."
10 Philosopher's Stones [1 skill point]
Used by the Mystic Forge to change one material into another.
Siege Master's Guide [1 skill point]
Used by the Mystic Forge to upgrade siege weapons.