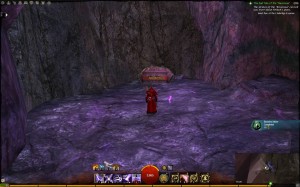 Key Facts:
Name: Branded Mine
Location: Northwest part of Fields of Ruin , west of Taneabron Lake
Location map: Fields of Ruin
Recommended level: 36+
Achievement type: Explorer / Puzzle
Puzzle Type: Jumping
Duration: 10-15 minutes
Difficulty (Solo): Hard
Prize: Achievement / Splendid Chest
General Information
The best way to describe this jumping puzzle in one sentence is: If you fail while jumping, you will die. In this jumping puzzle, you are forced to jump on the metal beams placed high in the air, and almost every jump you make can cause certain death. Additional elements that can make your jumps even more harder are falling rocks that can knock you back, but luckily you will not fall down.
Entrance
Guide through the puzzle