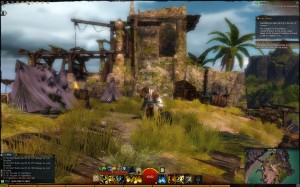 Key Facts:
Name: Under New Management
Location: South East part of Southsun Cove, Perl Islet
Location map: Southsun Cove
Recommended level : 80+
Achievement type: Jumping Puzzles
Puzzle Type: Jumping
Duration: 5+ minutes
Difficulty (Solo): Easy
Prize: Achievement / Splendid Chest
General Information
This jumping puzzle is one of the easiest puzzles. There is only one tricky jump.
Entrance
Guide through the puzzle
You have to make your jumps very fast since the floating geyser stones disappear after a few seconds.