According to Nate Long, ArenaNet's web programmer on the leaderboards, the long waited GW2 Leaderbords are finally live. Leaderboards consists of three main categories of play in the game: Player vs. Player (PvP), World vs. World (WvW), and Achievements. They provide metrics for World's rating, player's rating based on PvP matches and player's total achievement score.

At this moment, the top 100 users in PvP and Achievements are shown, but over the next few weeks this number will be increased, and additional options will be added.


Player vs Player Leaderboard
The PvP leaderboard is ordered by PvP rating. At this point, the actual rating formula is not exposed, but the leaderboard provides a way for you as a player to see where you stand in the hierarchy. This leaderboard will be updated multiple times per day.

The PvP data is all based on single-round tournament play, so three-round tournaments and public matches that you enter via the in-game match browser will not count toward your position in the standings. In order to minimize how much players jump around the leaderboard, it is required that player takes part in 10 matches before appearing on the leaderboard.

Here's a breakdown of the different metrics:
Rank – Current position in standings based on PvP rating
Wins – Total ranked PvP match wins
Losses – Total ranked PvP match losses
Win Percentage – Percentage of ranked PvP match wins out of total ranked PvP matches played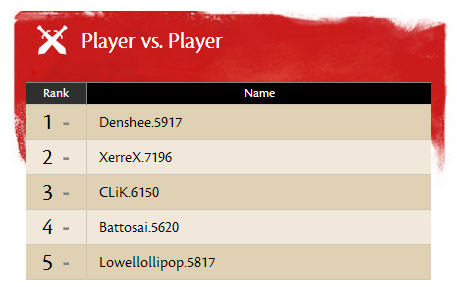 World vs World Leaderboard
The WvW leaderboard shows every world in the game, ordered by WvW rating. This leaderboard will be updated once per week to reflect the results of the matchups in the game.

The metrics for WvW are pretty standard:
Rank – Current position in standings based on world's rating
Rating – World rating based on our implementation of the Glicko-2 algorithm
Deviation – Degree of certainty for the current rating. Higher number means more confidence in the rating.
Volatility – Degree of expected fluctuation in rating. Lower numbers indicate stable ratings, while higher indicate erratic behavior.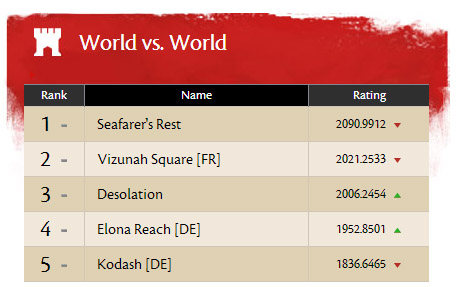 Achievements Leaderboard
There are lots of different metrics to choose from, but the total achievement score is a good measure of overall progression. It will be updated fairly often.