Today ArenaNet announced release date of a brand new content Queen's Speech – August 20, 2013. The celebration of Queen Jennah's rule continues in Divinity's Reach! All over Kryta, people are talking about The Queen's Speech, which is rumored to contain a major surprise. What will the Queen reveal to her people and the world? Find out on August 20!

Events
Developer Livestream – August 20

Take an inside look at the features in the Queen's Speech release with ArenaNet devs during the livestream on our Twitch channel on Tuesday, August 20 at 12PM PDT.

The Queen's Speech – Begins August 20

Don't miss history in the making as Queen Jennah wraps up her gala Jubilee with a momentous speech to her loyal subjects and visitors. Starting August 20, be sure to visit Divinity's Reach and hear what the Queen has to say!

Guild Wars 2 Anniversary Bash

On August 31, we're holding our first-ever Anniversary Bash and Guild Wars 2 Invitational Tournament! The event will be held in the Renaissance Hotel in Seattle, WA over PAX Prime weekend – if you're in town, come and join the fun! We'll be streaming the entire event for you to watch from home.
Learn more.
Rewards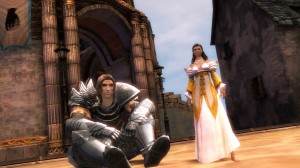 Birthday Gifts!
As characters created right at the launch of Guild Wars 2 hit their first birthdays, it's time to introduce our first Birthday Gift! Characters that are one year old will receive a Mini Queen Jennah, a 24-hour Birthday Booster, and a Scroll of Experience.

New Features
World vs. World XP and Point adjustments

We're making it easier to earn World XP points for playing normally in World vs. World by increasing the WXP rate across the board! As an added bonus, we're adjusting World vs. World Ability Points so that your total points are equal to your current rank. New characters will start off with one ability point, and all existing characters will receive one more!

World vs. World Trebuchet Mastery

Become a master of destruction with the new Trebuchet Mastery ability line! Increase your efficiency with Trebuchets by upping your basic shot damage, increasing your Trebuchets' hit radius, adding a new supply-draining effect to your basic shot, and learning a new Healing Oasis skill that provides healing to your teammates.

The End of Culling in PvE

On August 20, we're turning off culling, which will remove the limit on the number of characters you can see on-screen at once. The cities of Tyria will now be even more vibrant and bustling than ever!